2020 F-One SWing Surf V1 + Rocket Air Foil Board + Gravity 1200 Foil Package
Available Board Sizes: 5'5, 5'10, 6'6

Available Wing Sizes: 2.8m2, 3.5m2, 4.2m2, 5.0m2, 6.0m2

Available Mast Sizes: 45 cm, 55 cm, 65 cm, 75 cm, 85 cm, 95 cm
Available Wing Surf Colors: 
RASPBERRY/SLATE  
LIME/SLATE                    
LIME/BLACK                         
BLUE/ORANGE                
DEEPBLUE/ORANGE     
BLUE LAGOON/SLATE
CORAL/MANGO              
MANGO/SLATE
NOTE: Please indicate your top wing color priorities in the order note!!
2020 F-ONE ROCKET AIR FOIL BOARD V3
The Rocket Air range is a line of the inflatable board dedicated to foiling sports: Surf-foil, SUP-foil, Wing-foil, Wind-foil, and even Kite-foil.
Easy to store and carry
Balanced and light for flying
Superior and extra stiff Dropstitch material
Starting at 4'6 (55l.) and going all the way to 7'11 (185l.) the line includes boards for all sports and all types of riders. They are developed following the same sizes & outlines as the rigid boards, they offer great stability with the extra volume brought by the inflatable technology. The foil position is also identical to the rigid boards and provide the same perfect balance for take-off and in flight.
The 5'5, 5'10 and 6'6 are ideal sizes for Wing foiling with a Swing, offering a variety of volumes to suit everyone.
The Rocket Air boards are built using higher grade dropstitch with a fused, twin layer shell and a specific dropstitch pattern bringing extra stiffness which is essential to control the board properly when foiling. The weight of the board is incredibly light which makes them easy to handle and a lot of fun, even for advanced riders.
Finally, the Rocket Air boards can all be stored in a small bag to be easily brought on for your next adventure.
Size
Dimensions
Vol. (L)
5'10
178 x 73 x 12.7 cm
5'10'' x 29'' x 5''
125
| | | | |
| --- | --- | --- | --- |
| 6'6 | 193 x 76 x 12.7 cm | 6'6'' x 30'' x 5'' | 140 |
| | | | |
| --- | --- | --- | --- |
| 5'5 | 163 x 63 x 12.7 cm | 5'4'' x 25'' x 5'' | 90 |
DROP STITCH
An incredible technology developed originally to make inflatable rescue airplanes! It was later on used by inflatable boat and canoe manufacturers. It is composed of a vertical stitch in-between the deck and the hull that keeps them parallel and extremely rigid. This allows the boards to be inflated up to 21 PSI.
TUTTLE BOX
The tuttle box is a fin box standard of the windsurfing industry. With the angled front and back faces the tuttle head is firmly maintained inside the box. Its shallower depth makes it more suited for the smaller boards.
Equipped with
Available Size : 2.8m,3.5m,4.2m,5.0m,6.0m
An incredible new way to fly and experience new feelings on the water, once you try it, you'll be addicted.
Full traction control
Launch anywhere
Wide wind range
Five sizes for different conditions
Easy to learn and very accessible
High-end construction
The all-new Swing from F-ONE, a light, compact and totally safe handheld kite you can launch anywhere. Using our extensive kite design techniques, we have created the Swing to be stable, fun to use, and most importantly, easy to learn.
There are no lines to get tangled, no danger of getting dragged, and there is genuinely 100% depower, get ready for a totally new way to enjoy the wind.
WHO IS IT FOR?
Surf foilers, SUP foilers , kite foilers and Windfoilers are going to love the SWING, the possibilities are endless, and this new sport is only just beginning. By using the power of the wing combined with a foil, you can start planing with just 15 knots as well as going upwind. Then, you can depower the wing, and surf foil on the swells downwind, it adds an element of safety knowing if you miss a swell, you have the power to catch the next one.
Because the SWING isn't attached to the board and is very light, there is no additional weight. This means you can ride much smaller,
more compact boards, depending on your skill level. All the power transfers through you, to the board and hydrofoil going through your body, you are in total control.
If the beach is busy or has been banned kiteboarding, then you will have no problems using the SWING, there are no lines to lay out, meaning you can launch from tiny beaches and even boats with ease. All you need is a little power in the Swing and a few pumps, and you'll be up and flying on the foil, experiencing a totally new feeling that is hard to beat. Everyone who tries it gets hooked, and it is easy to learn if you have a foil experience already.
TECHNICAL DETAILS
Our design team of Robert Graham, Micka Fernandez and Raphael Salles have invested their full focus into the development of this wing. Endless hours testing and tweaking prototypes have led to one of the most advanced designs on the market. The primary goal of the design team was balance, control and performances. It is essential to have this balance to make learning easy as well as the manoeuvres and also for the wing to be stable when foiling downwind on the swell. Power is nothing without control, and the unique shape of the profile allows you to engage power instantly but also release it 100% too.
Built using our lightweight, high-quality materials, including Teijin Dacron and Technoforce D2 canopy materials, the wings are robust and easy to handle on the beach. The SWING features a single point inflation system, with high-speed airflow, means you will be on the water in an instant. The large volume leading edge gives the perfect wing stiffness and also plenty of power; meaning you don't need large sizes to get going.
The wind range on each size has been carefully thought out to ensure you get the most time on the water. We have designed different sizes in our range as not every rider weights the same, and some spots have more wind than others. Raphael and Micka have been out riding from 15 to over 40 knots with total control at all times. The low end is impressive, but the high end and the control of the SWING is incredible too.
There are four handles on the SWING to make hand placement simple, we spent time perfecting the positions in order to avoid imbalances. In addition, there are harness loop attachments points. When you improve, you can use a harness to help take power from the arms when you go upwind. Finally, there is a wrist leash attached to the front of the SWING for safety, this ensures you will always remain connected.
BOARDS
Here at F-ONE, we have designed an entire range of boards in our ROCKET WING range from 50 to 90 liters that have been built explicitly for this new sport. Smaller and more compact with different amounts of volume, there will be a size to suit you and offer the most comfortable ride.
FOILS
Our 1800 Gravity is excellent for riders of average weight. It is excellent, to begin with as well as to improve.
For the experts, our PHANTOM range offers more performances.
Each wing surface covers a 15 knots wind range. It is unique and allows the riders to ride in a 30 knots wind range with only 2 wings.
Sizes (m2)
2.8
3.5
4.2
5.0
6.0*
Wind range

 

(knts)
25 > 42
20 > 35
15 > 30
12 < 25
08 < 20
Recommended inflating pressure (PSI)
10
8
7
6
Here are the quivers you could potentially have according to the conditions you are used to:
4,2 m > 6 m
3,5 m > 5 m
2,8 m > 4,2 m
2020 F-ONE GRAVITY 1200 FOIL V3 with Top KF 

Board Connection 
The F-ONE GRAVITY 1200 wing is entirely dedicated to surfing on a foil.
Easy progressive lift
Maximum maneuverability
Perfect balance between speed and turning
Area : 1200 cm²
Aspect Ratio : 3.2
Its design is a significant evolution from our previous 1200 wing.
Optimized connection with our integrated Titan Connection especially developed for larger wings
new and thicker section profile for an early and very progressive lift-off
evolution of the arch and rake of the wing to best combine maneuverability and control
Design targets ease of use to surf and carve some lines:
Early lift for take-off
Easy entry into the turns for some intuitive lines
Perfect maneuverability allowing sharp turns
Total speed control to master your surf
Targeted at people who want a wing to foil on a variety of waves from small and mellow to taller and faster.
Very fluid through the turns, allowing to draw tight or long curves with good speed control and good pumping to go after the next wave.
Built with pre-preg carbon for the best weight to strength ratio, with a super light core.
Titan Connection: the wing connects directly to the mast via the Titan mast foot and the fuselage is split in two parts in order to simplify transportation. This setup offers better load transmission and better stiffness throughout the different parts for maximum control.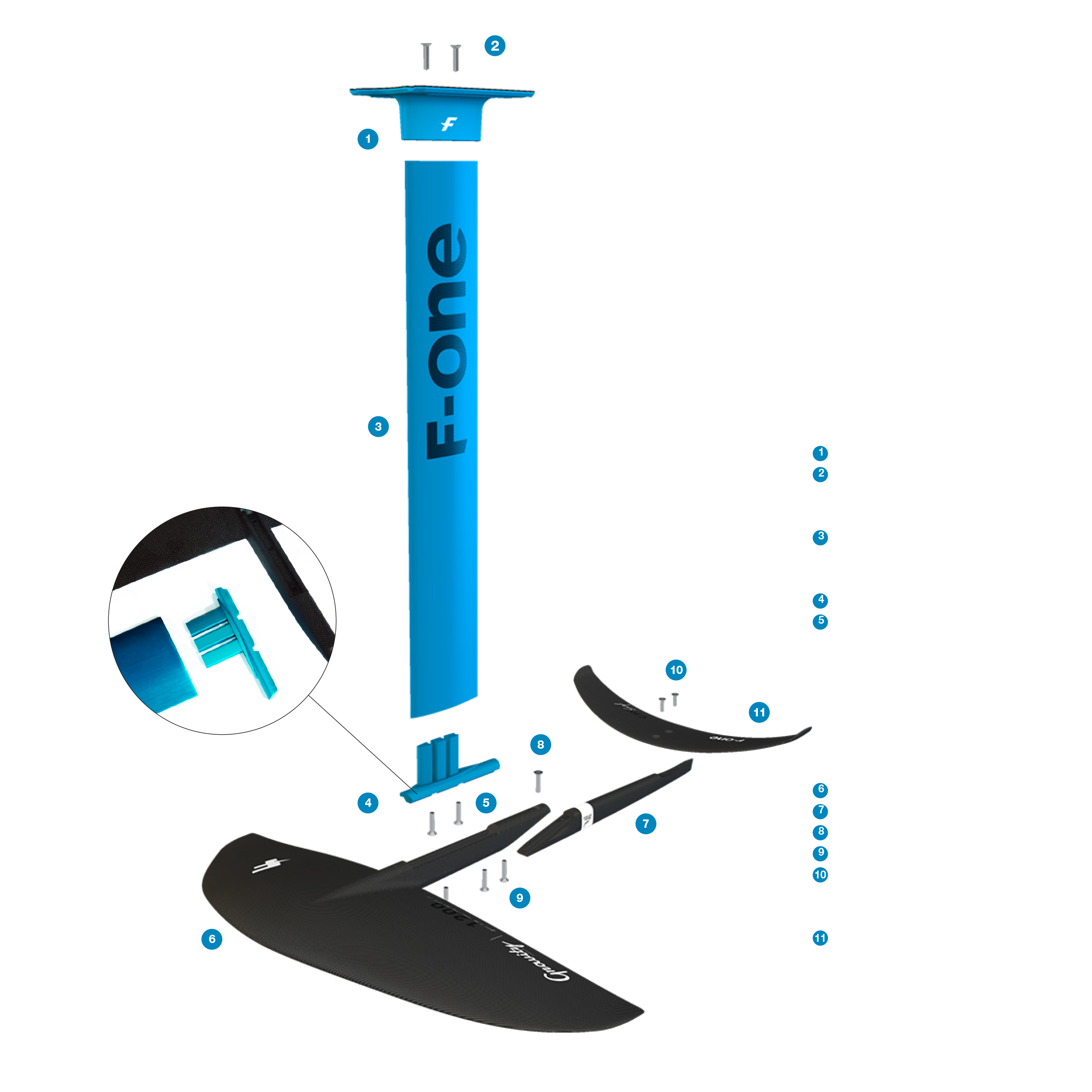 TECHNOLOGY
TITAN CONNECTION
The TITAN connection enables a very stiff and direct connection between two parts, locking efficiently any movement in all directions.
Its format is compact which is hydrodynamically friendly and very easy to use, assemble and disassemble.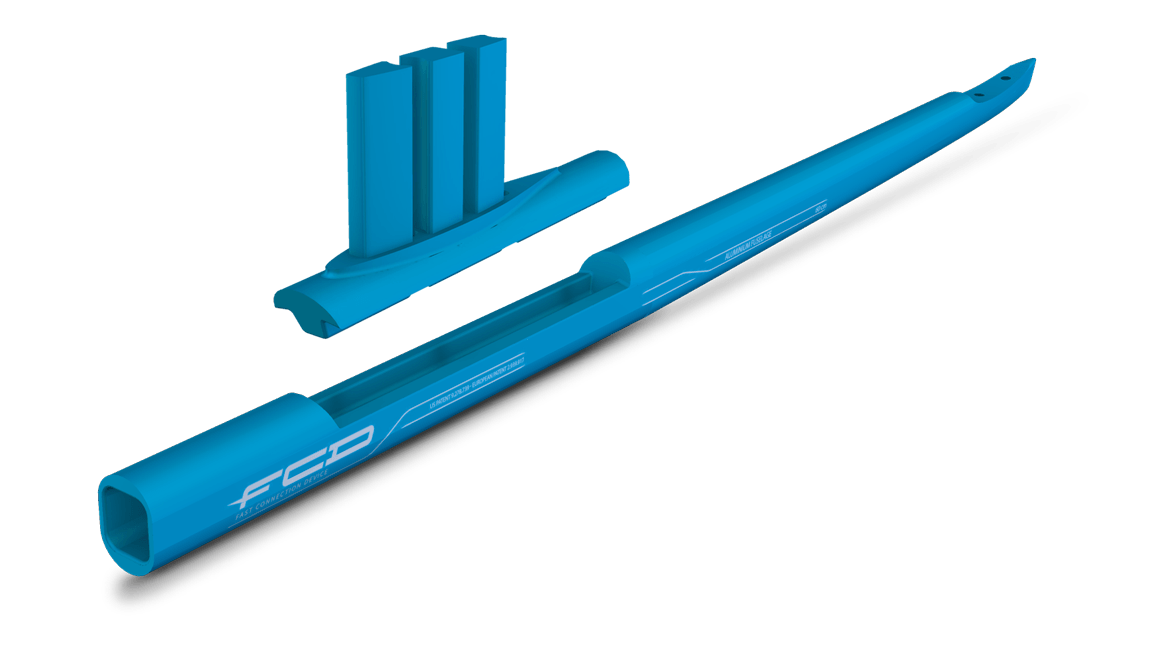 PRE-PREG
With Pre-preg fabrics, the carbon fiber is directly impregnated with epoxy resin by its manufacturer; this guarantees a perfect ratio between epoxy and carbon, and represents the highest quality process.
Quality control is much better and so is the working environment for the people building our foils. Pre-Preg fabrics offer the lightest weight with the best mechanical properties of carbon fiber.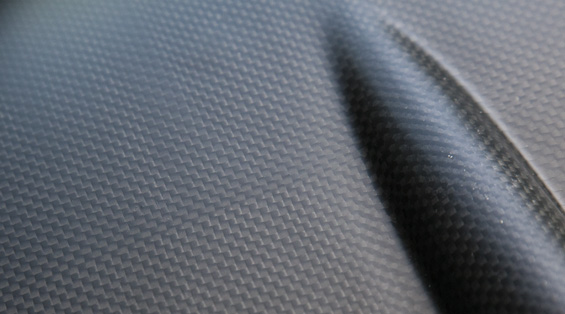 DETAILS
GRAVITY CARBON 1200 Front wing

The foils of the Gravity line are designed to provide a solid lift with a smooth take-off and great carving potential.
Built using the Monobloc construction with pre-preg carbon, the foils are both very light and really strong. This set-up offers better load transmission and better stiffness throughout the different parts for maximum control. The Titan connection allows to plug both an aluminium or carbon mast and the fuselage is split in two parts to facilitate transportation.
The Gravity wings are recommended with the C275 surf stab. This stabilizer offers easy take-off and good directional stability for a secure feel.
Area: 1245 cm²
Span: 70 mm
Aspect

 

Ratio: 3.9
Weight: 1.42 kg
STAB C275 Surf
The C275 SURF stab is specifically designed for carving and pumping. Its flatter arch shape delivers high efficiency while pumping in order to connect more waves. Its shape and smaller area ensure sharp turns and more speed with a very loose feeling, closer to that of a shortboard. It is a high-performance stab that suits the Phantom range.
Built in Pre-Preg Carbon and designed to be securely mounted on F-ONE fuselages, its profile and angle of incidence were tuned to achieve a very intuitive balance.
Efficient pumping
Sharp turns
Loose-feeling
Alu masts 45 > 85 cm
The F-ONE aluminium mast can be used for all disciplines, kite, surf, sup and windsurf.
The profile is extruded with precision from 6063 aluminium block. The shape of its section benefits from our years of experience in kitefoiling to provide the best gliding feel while keeping the strength up and the weight down. It comes with two stainless steel helicoil inserts at the bottom and at the top to fasten the connecting parts and is therefore fully modular. The aluminium mast can be used on every foil of the range and it is very easy to jump from one length to another. A number of parts are available for board connection (Plate, KF, Deep KF, Tuttle).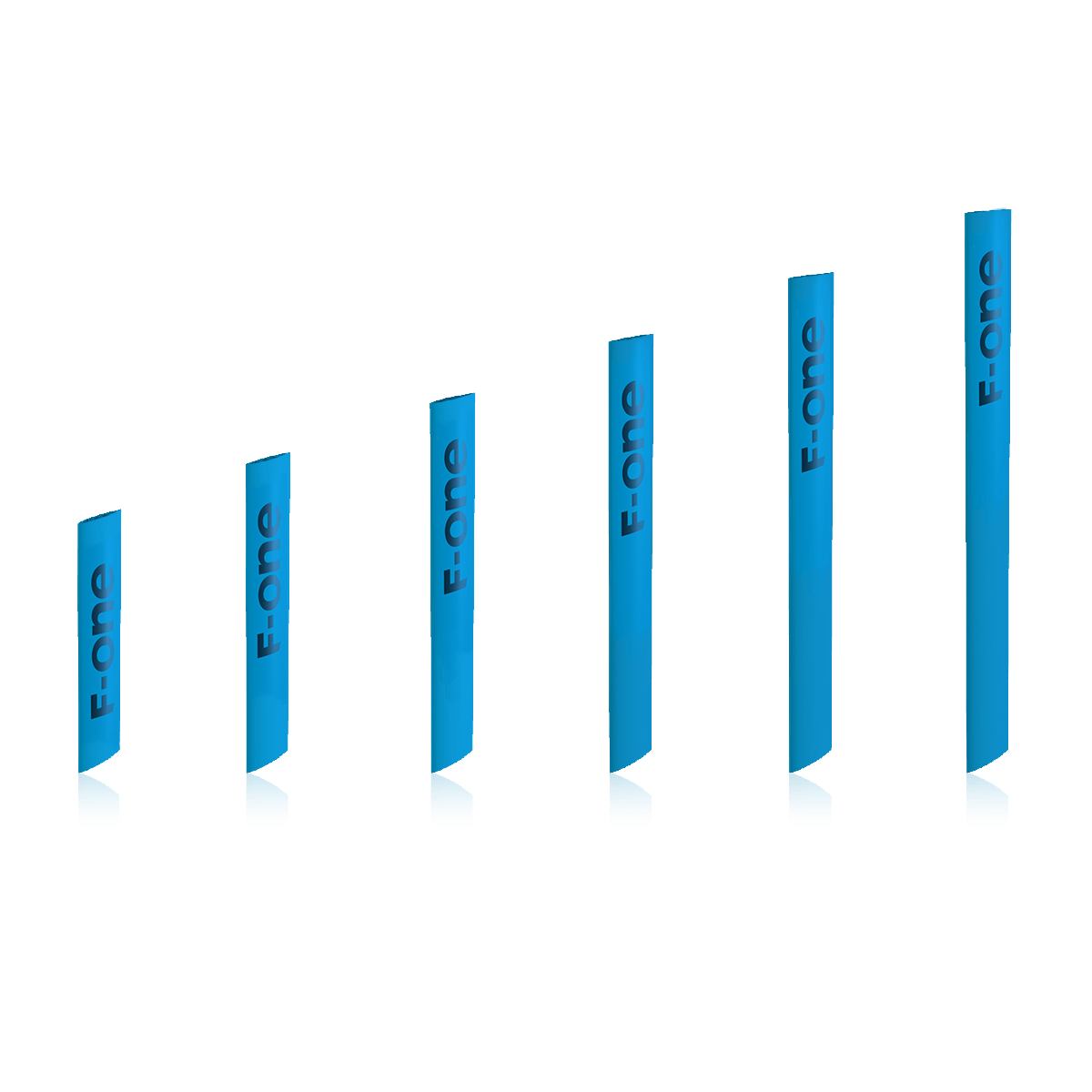 TITAN MAST Foot
The TITAN mast foot is the connecting part that makes the F-ONE aluminium masts compatible with all TITAN fuselages and wings. It is made of 6061 aluminium, CNC machined with high precision and fully anodized. To install the TITAN mast foot, it should be inserted into the bottom end of the aluminium mast and fastened with two M6x25mm tapered head screws.